Ryanair has reported a 4% rise in profits in the three months to the end of June as passenger numbers grew and costs fell.
The airline had profits of €256m in its first quarter of 2016 on the back of revenues of almost €1.69bn.
Revenue rose 2% to €1.653bn during the period, while ancillary sales increased to 26% of revenues - from 24% for same period last year.
During the period it carried more than 31.2m passengers, up 11% on the same period of last year, while its unit costs fell by 9%.
Fuel fell by €42m to €518m in Q1 – and when fuel is excluded – fuel unit costs were cut 4% due to factors such as lower cost aircraft, cheaper financing, discounted airport growth deals, and weaker sterling.
This was partly offset by slightly higher staff costs as five-year pay deals kick in across Ryanair's 84 bases, while headcount rises in line with fleet growth.
The carrier said it is 95% hedged for fuel for this financial year, and nearly 55% hedged for Financial Year 2018.
That allowed the airline to cut average fares by 10% while still increasing its bottom line.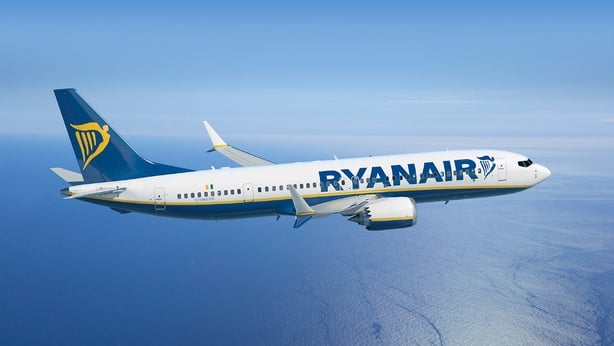 Ryanair has maintained its profit guidance of between €1.375bn and €1.425bn for the full year - though it said that it would not be able to predict what impact Britain's vote to leave the European Union would have on its business until some clarity emerged.
The airline's shares have risen more than 5.5% in Dublin trade today.
Commenting on the results, Ryanair CEO Michael O'Leary said the "modest 4% increase" in first quarter profit to €256m was in line with previous guidance.
"The absence of Easter in Q1 and on-going market volatility arising from terrorist events, and repeated ATC strikes (particularly in France) weakened fares on close-in bookings and caused almost 1,000 flight cancellations.
"We remain committed to our load factor active/yield passive strategy which is why Q1 fares fell 10% to under €40.
"Traffic rose 11% and load factor improved 2 points to 94% as our Always Getting Better ("AGB") customer experience programme continues to win new customers and new markets.
"Cost control remains core which is why unit costs reduced 9% (ex-fuel down 4%)," Mr O'Leary added.