Tony McCoy and Ted Walsh have paid tribute to John Thomas McNamara following his passing, with McCoy saying the Limerick man would want positives to be taken from his untimely death.
'JT' was paralysed following a serious fall at Cheltenham in 2013 when thrown from his mount, Galaxy Rock. He was immobilised from the neck down after fracturing two vertebrae in his neck during the fall at the first in the Fulke Walwyn Kim Muir Challenge Cup.
He suffered complications on Friday night before being transferred to University Hospital Limerick and then discharged to spend his final days with his family.
"It's such a sad thing to happen, it's such a sad day but I think John Thomas would definitely like us to be positive about it..." - AP McCoy
An emotional McCoy told RTÉ Sport: "It is a very sad day for everyone in racing, especially his family – his wife Caroline. She's a very tough and amazing woman, she has been since she's been caring for JT. He was a remarkable man.
"He was a little bit like myself at times, he could be grumpy enough. But was very good-humoured, a fantastic, brilliant rider.
"If anyone watched his ride on Rith Dubh at the Cheltenham Festival, it was as good as you could ever wish to see."
Reflecting on the day of his accident at Cheltenham, McCoy revealed it was one that would live forever with him.
The 20-time champion jockey continued: "It's a day I'll never forget.
"I'll never forget Adrian McGoldrick, who is the jockey's doctor in Ireland, coming in to me just after the race and telling me – because I was president of the Injured Jockeys Fund in England – that he was very ill and it was very serious.
"And I remember looking over at his peg and seeing his clothes hanging up, and to this day I can picture it in my head and thinking that he's never going to be back in here. And that's something I'll never forget."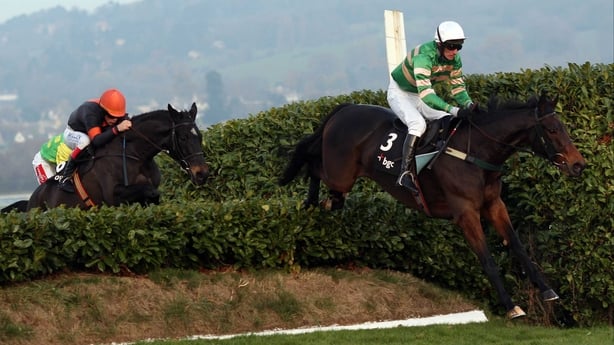 Following his fall, a fund was set-up to help pay for his medical bills and caring, with donations pouring from all across the racing community, while the Jockeys Emergency Fund (JEF) jumped from €8,584 in 2012 to more than €1m in the aftermath of his accident.
And McCoy was eager to highlight the good that came out of such a tragedy
He continued: "Himself and JP (McManus) were great friends and JP said to me this morning 'JT would like to think that there will be good come out of this' and there will be good come out of it. He brought a lot of people together.
"There's an awareness there for jockeys in the future that they're going to have even better care than they had in the past. So, I think that we'll think of the positive things that this has brought.
"It's such a sad thing to happen, it's such a sad day but I think John Thomas would definitely like us to be positive about it and like us to think that he's done a lot of good for us and he has done that."
Racing pundit, friend and trainer Ted Walsh was equally wholesome in praise for the man and jockey.
Walsh said: "I was glad that I do know him so well. He was a different generation to me, 25 or 26 years younger than me, but I admired him very much as a jockey and I really enjoyed his company as a fellow being.
"He was a great fellow to be with, great company, he was everything you'd want in a man. He was honest, he was hardy. All the things that you'd like to think your fellow man is, JT was them."
Walsh, who was also present at Cheltenham when his racing career ended, will also be haunted by the memory of the incident.
He continued: "It was shocking, shocking. Galaxy Rock was the horse he was riding in the Kim Muir. It was a simple enough fall."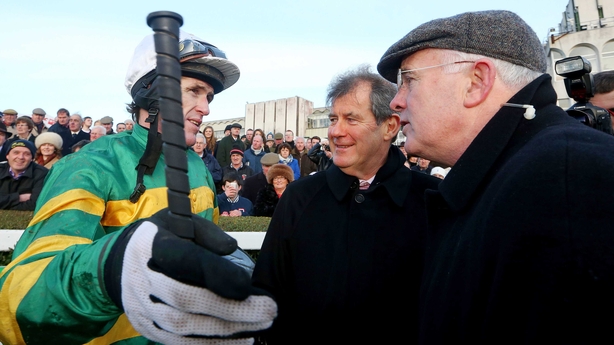 Walsh went on: "He caught the top of the fence, turned over and he never moved. For a moment you're thinking it's an ordinary fall, but then a kind of a hush came over the place that JT was pretty seriously injured.
"We all gathered around, everybody that was there. Then the helicopter came in and when you see a helicopter coming in to move somebody you know it's pretty serious.
"We didn't know how serious, but there was a terrible hush around the place – absolutely dreadful, I'll never forget it."
"It was a shocking day, I'll never forget it, I'm sure those closest to him will remember it for the rest of their lives. It was just a terrible thing."
A leading Irish amateur rider, McNamara had over 600 career victories and was a four-time Cheltenham Festival winner.
He won the 2002 National Hunt Chase on Rith Dubh and the same race again in 2012 on Teaforthree.
He also won the Cross-Country Chase with Spot Thedifference in 2005 and the 2007 Fox Hunter Chase on Drombeag.
McNamara is survived by his wife Caroline and three children; Dylan, Harry and Olivia.