Paddy Barnes is out of the Olympic Games after a surprise split-decision defeat to Spain's Samuel Carmona Heredia in his last-32 light-flyweight bout in Rio.
Barnes lost the first round to his aggressive rival before tieing it up overall in the second. He looked to have done enough to edge the fight in the final round but two of the three judges plumped for the Spaniard, ending the 29-year-old's chances of becoming the first Irish Olympian to win medals at three consecutive games.
The Belfast boxer told RTÉ Sport that although he felt the decision was harsh, making the 49kg limit had taken too much out of him.
"I thought I could have won it," he said. "I had more cleaner shots, but I think the judges looked at me and saw how tired I was.
"I was favourite for gold and I genuinely believed I would win it.
"I shouldn't be fighting at this weight. It's so hard getting down to it. This is the last time I fight at 49kgs ever. It's too hard.
"In the second round I had nothing left to give. I don't know where I got the energy to land the punches I did.
"It's always been hard for me to make this weight and I trained differently. There were questions that I would make the weight and I just made it.
"I was favourite for gold and I genuinely believed I would win it.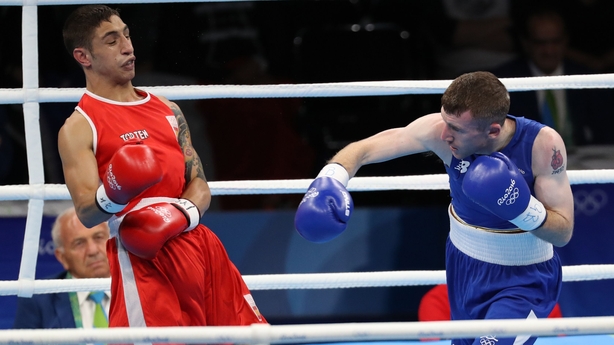 "He didn't even have to give me a fight there. The next fight I would have got hammered again because I had no energy. I would have been embarrassed next week."
Barnes, who had set his sights on gold after securing bronze in 2008 and 2012, was heavily favoured but started slowly and lost the first round to his 20-year-old opponent on two judges' cards, with the third scoring it a draw.
A visibly tiring Barnes levelled in the second as his opponent began to swing wildly and the Irishman landed some clean hooks to tie it up, 19-19 overall.
Barnes looked the more composed fighter for much of the final round, connecting with more punches than Heredia, but he ran out of gas in the last minute and allowed his rival to land several uppercuts.
It still seemed that Barnes had done enough to edge it, but only the Chinese judge agreed, awarding the fight 29-28 to Paddy as the Canadian and Uzbekistani judges scored it 29-28 to his opponent.
— RTÉ Sport (@RTEsport) August 8, 2016
RTÉ analyst Michael Carruth said the fight could have gone either way but admitted Barnes didn't look at his best.
"It was a tight fight," said the 1992 gold-medallist. "He looked very flat-footed and looked tired after three minutes and it wasn't a vintage performance by him.
"We knew this Spaniard was a tough guy and going to be a test for him. It could have gone Paddy's way."
Former world champion Bernard Dunne, meanwhile, felt that the Irish fighter had done enough to clinch it after a difficult opening round.
"I thought he won," he told RTE Sport. "He started very sloppily, hands down, throwing single shots, crossing his feet over and I thought he lost the first round.