Three former bank executives will be sentenced for their part in a €7.2bn conspiracy on Friday morning.
Former Anglo Irish Bank executives, John Bowe and Willie McAteer and the former chief executive officer of Irish Life and Permanent, Denis Casey were found guilty last month of agreeing a scheme to mislead the public about the true health of Anglo.
It was the longest criminal trial in the history of the State.
Today, Judge Martin Nolan heard character references and pleas in mitigation on behalf of all three men.
He said he had a lot to think about and would give his decision on Friday morning.
The transactions at the centre of this case began on 25 September 2008 at the height of the financial crisis.
Between 25 and 30 September, billions of euro were moved backwards and forwards between Anglo and Irish Life and Permanent.
The money appeared in Anglo's end of year figures as deposits from Irish Life Assurance.
The purpose, the court was told, was to mislead people by making Anglo's corporate deposits, a mark of the health of a bank, look a lot better than they were.
Prosecuting counsel Paul O'Higgins said the Financial Regulator and the Central Bank had been encouraging Irish banks to support each other.
But he said at no stage was the Regulator told about the impending transactions in September 2008.
He said Anglo's chief executive David Drumm had the major part in driving the transactions.
The court heard all three convicted men had cooperated fully with the process of the garda investigation by making lengthy statements and answering questions.
All three had long careers in the financial sector and lost their positions in the bank after the financial crisis.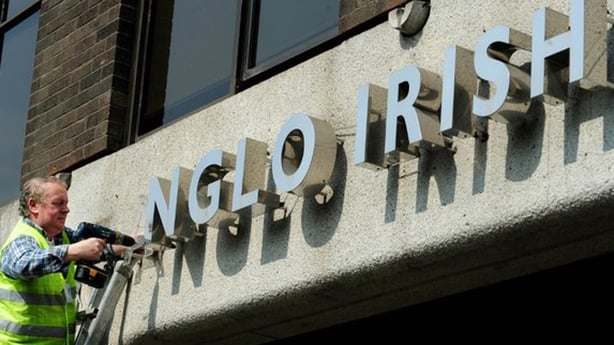 McAteer is the only one of the three to have a previous conviction.
He was convicted in 2014 of providing unlawful loans to ten property developers in July 2008 in breach of Section 60 of the Companies Act.
He carried out 240 hours of community service in lieu of a two year prison sentence.
The court also heard that McAteer had a large shareholding in Anglo that was once very valuable and had lost "tens of millions" of euro when the shares collapsed in value.
The three men were found guilty last month.
The 89-day trial was the longest running criminal trial in the history of the State.
The jury deliberated for almost 62 hours before reaching its final verdict - the longest jury deliberations ever.
IL&P's former director of finance Peter Fitzpatrick was acquitted by the jury.
Judge reads testimonials
The court has heard character witnesses for all three convicted men. Judge Martin Nolan was also given booklets of testimonials on behalf of the men.
The judge said he had read the testimonials and the men had very, very good mitigation.
A brother-in-law of John Bowe, John Feeran, said he would hate to know Bowe through the Anglo tapes.
Mr Feeran said he could recognise him through his laughs and jokes. He said when Bowe was under pressure his sense of humour could be a bit quirky and his inclination to laugh under stress could be irritating but he said it gave no indication of the man himself.
He said Bowe was a very good husband and father and throughout the agony the family had gone through, he had managed to ensure his family could carry the burden placed on them.
He said Bowe had been generous financially and with his time. He was active in his local community and the community had supported him during this very difficult time.
Another brother-in-law, Peadar Ó Gaora, said Bowe was very modest. He said the last eight years had been a perfect storm for Bowe as the financial crisis hit and his mother became very ill, declined very rapidly and later passed away.
He said the media coverage of the "Anglo tapes" had an effect on Bowe. He had not been able to leave his house for a time without being approached by camera people and reporters. He had suffered a very public loss of reputation. But he said he just got on with it. And he said Bowe had given him an example of how to deal with the challenges life throws at people.
A friend of Willie McAteer's told the court McAteer was very conscious of the reputational damage the proceedings had inflicted.
He said McAteer and his wife lived very modestly and still do. The court heard they had sold their house in Dublin and moved outside the city.
A friend of Mr Casey's said he was very ethical, always focused on the greater good. Another friend said he was always courteous and respectful and sacrificed a lot to get to where he was.
Courts hears pleas of mitigation
Lawyers for Bowe told the court that he was not the most significant or even a very significant player in determining the course of the transactions or executing them.
Senior Counsel Diarmaid McGuinness said there was no evidence of personal gain, no evidence of any loss to the revenue commissioners or to the banks concerned.
He said Bowe made no attempt to conceal anything when he spoke to someone in the Financial Regulator's office at the end of October 2008.
He said Bowe did not have responsibility for accounting for the transactions in Anglo's year-end figures. He had co-operated with gardaí and signed off on a very lengthy statement.
He said Bowe was only 52, he had three children. He was no longer employable within any financial related business and publication of the Anglo tapes in the media had lead to his vilification nationally and internationally.
He was going to have to live with this forever.
He said there was significant involvement of the Financial Regulator and he asked the judge to place Bowe's offending on quite a low level.
Lawyers for McAteer said he had worked hard to advance himself on buses and building sites. He was not born with a silver spoon in his mouth.
Senior Counsel Patrick Gageby said at one point McAteer had a substantial shareholding in Anglo.
Now he had a judgment for €8m against him and had to get legal aid for this case.
Mr Gageby said McAteer could have left Anglo before the trouble began but he was prevailed upon to stay - he thought it was duty and this is where he had ended up.
He said his professional life had ended in the disgrace of a criminal conviction.
Lawyers for Casey said his reputation had been tarnished by this conviction and this weighed very heavily on him.
Senior Counsel, Michael O'Higgins said Mr Casey was very firmly of the belief that the Financial Regulator was aware of and supportive of the transactions.
This was consistent with the banks being encouraged to pull on the green jersey.
Mr O'Higgins said the Financial Regulator was not merely hands off in relation to what was going on but "up to its oxters".
He said the transactions completely and utterly misconceived.
He said there was no cosy relationship between Anglo and IL&P and they were not natural bedfellows.
He said Casey found himself at the mercy of the court.
He had to endure a very difficult time for the past seven years, having lost the job he loved and lost his status.
Casey had retrained as a barrister but this conviction would make his future difficult.
He said Casey had a level of mitigation available to him that very few people come to court with and he said he was asking for leniency and mercy.